His life, work, and books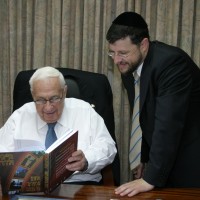 Chaim Walder is a well-known author for children, youth and adults; an educational counselor and an activist for child welfare. Mr. Walder was born in 1969 and grew up in Haddar HaCarmel neighbourhood in Haifa, Israel.
Following his studies at Kol Torah Yeshiva and Knesset Hizkiyahu Yeshiva, he got married and served as a teacher-soldier in the Israel Defense Forces (IDF). After completing his military service, he continued working as an educator, and at the same time started his career as an author.
Starting 1990 Mr. Walder is also a publicist, writing weekly columns about social, educational and public issues. He used to have his own radio show at Kol Barama Radio Station, and since 2014 it is broadcasted at Kol Hai Radio Station.
In 1997 Mr. Walder established the Child and Family Center, as part of the social services department at Bne Brak municipality. Since then he serves as the center's educational manager, helping and aiding in matters of family, as well as of youth and children in distress.
In 2003 Mr. Walder got the Israel Prime Minister's award, for his achievements in the field of child welfare.
His books
Chaim Walder wrote dozens of books for toddlers, children, youth and adutls.
Among his most familiar books:
Kids Speak – an 8-volume best seller dealing with various issues and dilemmas faced by children. The book was translated to 8 languages and sold 100,000 copies in Hebrew.
That's Me, Tzviki Green – a best seller about a young boy, Tzviki Green, dealing with his new life in the United States, and then again in Israel. The book was translated to several languages.
Our Heroes – stories which connect the deeds of modern-day children, to past, outstanding men.
Advice for Life – a set of educational tips and advice collected by Mr. Walder for 15 years.